When:
May 16, 2014 @ 2:30 pm – 3:30 pm
2014-05-16T14:30:00-04:00
2014-05-16T15:30:00-04:00
Where:
2001 TEL Building, YorkU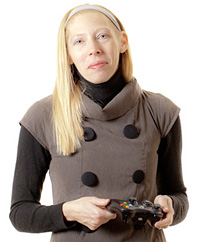 Mia Consalvo is Professor and Canada Research Chair in Game Studies and Design at Concordia University in Montreal. She is the co-editor of Sports Videogames and author of Cheating: Gaining Advantage of Videogames. She is completing The Life of a Game with Jason Begy and has almost (!) finished a book about Japan's influence on the videogame industry and game culture. Mia runs the mLab, a space dedicated to innovating methods for studying games and game players, at Concordia. She's presented her work at professional as well as academic conferences including regular presentations at the Game Developers Conference. She is the President of the Digital Games Research Association, and has held positions at MIT, Ohio University, Chubu University in Japan and the University of Wisconsin-Milwaukee.
---
This IRDL Research Talk is taking place May 16th, 2014 at 10:30-11:30 AM