When:
February 24, 2016 @ 1:30 pm – 3:30 pm
2016-02-24T13:30:00-05:00
2016-02-24T15:30:00-05:00
Where:
York University, Kaneff Tower Room 519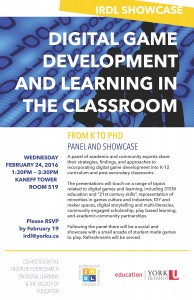 A panel of academic and community experts share their strategies, findings, and approaches to incorporating digital game development into K-12 curriculum and post-secondary classrooms. The presentations will touch on a range of topics related to digital games and learning, including STEM education and "21st century skills", representation of minorities in games culture and industries, DIY and maker spaces, digital storytelling and multi-literacies, community engaged scholarship, play based learning, and academic-community partnerships.
Following the panel there will be a social and showcase with a small arcade of student made games to play. Refreshments will be served.
Panel and Showcase Co-Hosted by the Institute for Research on Digital Learning & the Faculty of Education
Please RSVP via email: irdl@yorku.ca by Friday February 19th 2016