When:
September 29, 2014 @ 11:00 am – 12:00 pm
2014-09-29T11:00:00-04:00
2014-09-29T12:00:00-04:00
Where:
TEL 1009
York University
4700 Keele St, Toronto, ON M3J 1P3
Canada

More and more, our bodies are simply construed as information, an important concept in an information-driven culture.  Feminist theorists have argued for a long time that no one owns our bodies. Instead, we are our bodies. However, managing one's body and self must be done independently and without unwarranted distribution. We must opt in to sharing personal information. Sharing is a concept which is under-theorized and under-conceptualized in the social media era. Traditional conceptualizations of the term posit it as both a form of distribution and as an expression of communion (John, 2013). We suggest that the ways in which individuals discuss the concept of sharing personal information online offers insight into how sharing might be conceptualized today. Reader comments to online newspaper accounts offer a digital space for public deliberation and share characteristics of the social and analytical processes associated with public discourse (Manosevitch & Walker, 2009). Readers who comment on these stories may direct us toward an initial understanding of how readers conceptualize sharing, its norms, and its other unique dimensions. Using semantic network analysis, the data revealed six dimensional clusters. These clusters include commercial and surveillance components. Notably, this demonstrates that in the discussion related to the sharing of personal information, commenters acknowledge the potential for commodification and monitoring. The sharing of the self via the sharing of personal information intersects with more traditional notions of sharing. That is, when we share, we distribute our self as an object as a means of communality. However, this makes us subject to someone else's objectification. When given context, the sharing of personal information takes on tangible dimensions of commodification and objectification. We argue then, that sharing is contextual, much like privacy, as there are multiple and simultaneous understandings of the term depending on its application.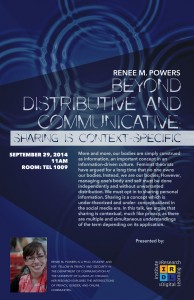 Renee M. Powers is a Ph.D. student and NSF Fellow in Privacy and Security in the Department of Communication at the University of Illinois at Chicago. Her research explores the intersections of privacy, gender, and online communities.